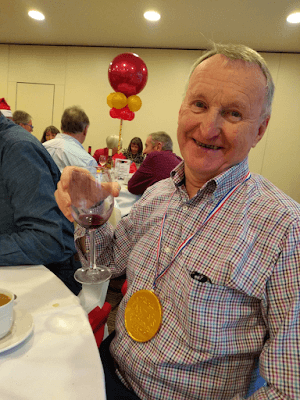 A small but select group met at Morrison's café to depart on a ride to Aldwickbury where the lunch was scheduled. Kevan led the pack along a wiggly route to arrive at the edge of Harpenden by 12 noon. Only one puncture on the ride even though the roads were filthy. Kevan demonstrated his skills to mend the puncture using a self-adhesive patch, without entirely removing the tube, as the hole was visible near the valve.
The Christmas lunch at Aldwickbury Golf Club was a resounding success again this year.
The 'Potterers' did their own thing and therefore were not present.
Despite this there were 63 diners and so the consolidation of the 'club' is intact, thankfully.
Let's hope we can continue in the same vein and look forward to 2020.
Dan apparently was awarded a "bravery" award – for what I'm not sure.
Route below