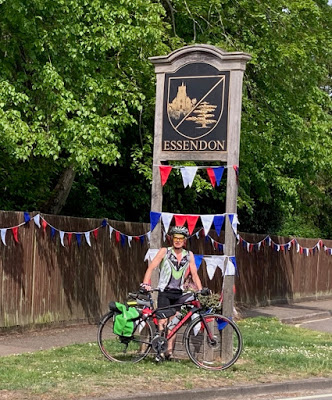 Unusual Coronavirus conditions found Steve and me cycling out alone on a glorious day last Friday.
We initially cycled east to Hertford via Essendon.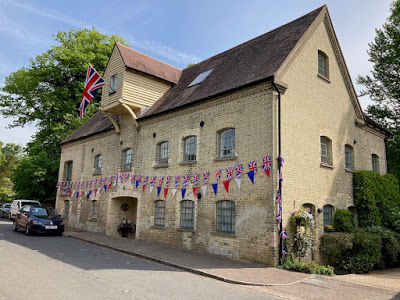 Hertingfordbury had also made an effort with their decorations.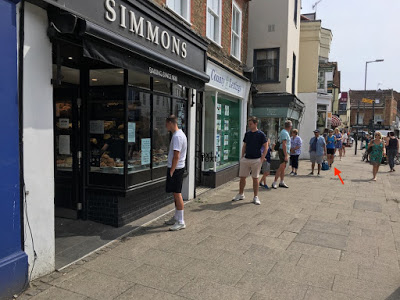 We carried on via the roads to Ware where we'd heard Simmons had opened up some of their shops again. I queued up for coffee and cake, and as you can see it was a popular place. I'm about sixth in the queue in the photo next to the red arrow.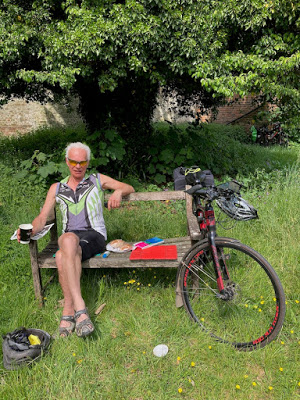 As we'd bought coffee in a take-away cup we were pleased to find a seat at the back of Barclay's car park opposite, near the river, just a short wheel away.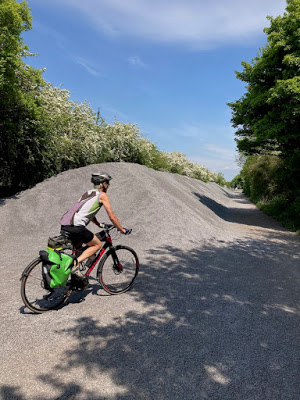 We left Ware using Poles Lane bridleway and road behind Hanbury Manor hotel to get to Thundridge, then used the bridleway though Youngsbury from Wadesmill to High Cross which is all tarmac road apart from the first 50 yards or so; glorious parkland to meander through. Just before Puckeridge, on the cycle route to avoid the A10/A120 roundabout, we found several slag-heap sized piles of chippings ready for Herts Highways to spread on the roads.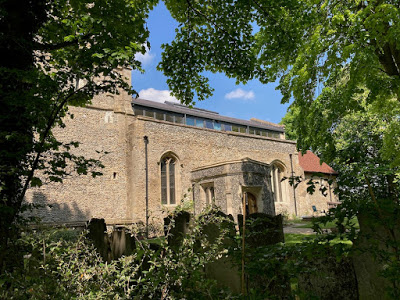 Taking advantage of the lack of traffic we ventured north of Puckeridge north alongside the A10 to turn left to Westmill near Hamels Park golf club. In fact we could ride on a pavement all the way to the junction and there was a refuge to cross the A10 so we could use this route in busier times too. We saw a huge queue at Pearce's farm shop even though the cafe is currently closed. Our destination for picnic lunch was a church on the edge of Buntingford and Steve rode into the churchyard of Layston church looking for a seat before a passer-by told me it was a private residence now. It had been a ruin and was recently renovated at great expense. The "journal" pages of the link above show the most interesting pictures.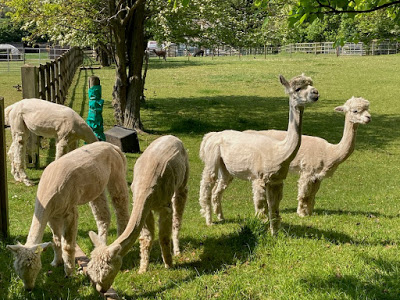 We found a seat in the adjacent still-used graveyard and when we left we were delighted to see lots of Alpacas some of whom had had a lockdown haircut. The owner of Herts Alpacas said he had about 100 and bred them for export to Europe
We took a route back via Throcking, Cromer, Walkern, Bragbury End and had a banana stop in Datchworth, passing many VE Day parties on the driveways and pavements en-route. We got back home at about 5pm and joined several neighbours sitting 2m apart on the road in our quiet cul-de-sac for our VE Day celebrations.
Map below of our route – about 58 miles.
Carol B